Experience the Freedom
To Just Ride
Experience the Freedom
To Just Ride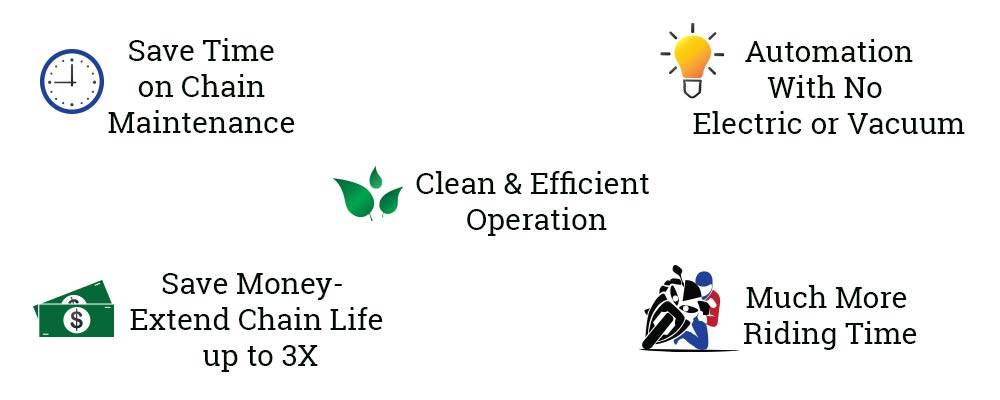 Featured Chain Oiler Products
What Our Customers are Saying...
Best Chain Oiler Available
"I'm a motorcycle mechanic from Vermont and I mostly ride my bike hard-ish on twisty roads in the Adirondacks. Good weather and bad. Before the Motobriiz I would lube the chain every few hundred miles and almost every time it would require some adjustment. I decided to try the briiz because it was simple and economical. After installing and with a new set of chain/sprockets, I've got about 4000 miles on the system and I don't think I've had to adjust the chain more than once in that time. Very impressed, and I recommend it to anyone who does a lot of miles."
Ben
August 26, 2019
Best Chain Oiler Available
"I've use all sorts of chain oilers over my 25 years riding and this is by far the best chain oiler on the market. Not needing to bleed the system if you forget to add oil, (unlike a very well known competitors version) is great. By being able to use whatever oil you like, is also great. I just adjust the viscosity depending on the temperature. Chainsaw blade oil, mixed with engine oil works superb. My chain is also kept much cleaner with the Motobriiz system. The reservoir sits nicely under the rear pillion seat and the water trap hides away in the lefthand front cowling. The only way to better this device would be a flow rate control on the reservoir, so I didn't need to change the mixture of oils. But this is a small quibble with a great bit of kit! Well done to the whole Motobriiz team."
Jonathan Bishop
October 8, 2018
"I had never heard of Motobriiz, but the idea sounded good so I decided to give it a go. Fitting to the Thruxton took a little longer than most bikes probably need. This was only because the Triumph seat is bolted and the chain guide can not be removed without removing the swinging arm. I cut the guide while still fitted to the bike. Very tricky with not much access, but I managed. Fitting the kit took no more than a few minutes after that. Everything is provided. Even a little mixing stick and pad to mix the adhesive. Over the next couple of days I did 400 miles. The chain looked wet and oily, but was this just what I had soaked the applicator pad with? No oil can be seen in the feed pipe. Off with the seat, and the reservoir was about one third empty. It works!"
Keith Armstrong
August 31, 2020
These kits make brake bleeding a breeze!